Indesit BWE 91484X S UK N Washing Machine - silver
£336.00
In Stock
3-5 Day Delivery Available
Only 3 left
ColourSilver
Drum Size (Kg)9KG
Energy RatingC
Manufacturer Labour Guarantee1 year
Manufacturer Parts Guarantee10 years
EAN8050147043103
Take control of your laundry with the Indesit Innex BWE 91484X S UK 9kg Washing Machine in silver. Including brilliant capacit, plus programs to save you time, money and effort.
Featuring our innovative Push & Go program, it only takes one step to reach brilliant cleaning and stain removal in just 45 minutes - no need to pre-treat or scrub. Just press the dedicated button for two seconds and the Indesit Innex will automatically start a 30°c cycle that's perfect for cottons and synthetics.
For your regular wash cycles, explore Innex's range of Everyday Eco programs. Tailored for daily cotton, synthetic, colours and delicate washes, this model also features a Rapid 30 Minute freshen up for lightly soiled garments.
More Information

| | |
| --- | --- |
| Manufacturer | Indesit |
| GTIN | 8050147043103 |
| Colour | Silver |
| Model Number | BWE91484XSUK |
| Energy Rating | C |
| Plug Type | UK |
| Approval Certificates | CE,UKCA,UL_EU |
| Installation Type | Freestanding |
| Construction Type | Freestanding |
| Type of Control Settings | Digit |
| Drum Size (Kg) | 9KG |
| Appliance Current (A) | 13 |
| Appliance Voltage (V) | 220-240 |
| Dryer Door Type | N/A |
| Dryer Drum Material | SS |
| Adjustable Feet | Yes - front only |
| Door Hinge Type | Left |
| Cotton Capacity Drying | 0KG |
| Progress Indicator | DISPLAY UNITS |
| Moisture Monitoring System | 0.0 |
| Type of Control | Appliances | Electronic |
| Automatic Programs | Yes |
| Cooker | Over Automatic Programs | Yes |
| Interior Light | No |
| Door Opening Type | Handle |
| Niche Depth | 0MM |
| Max Niche Width | 0MM |
| Min Niche Width | 0MM |
| Max Niche Height | 0MM |
| Min Niche Height | 0MM |
| Digital Countdown | Yes |
| Cord Length | 120CM |
| Hot | Cold Water Intake | No |
| Washer Max Spin Speed | 1400RPM |
| Anti-Crease Program | No |
| Balance Control | Yes |
| Foam Control | Yes |
| Skip Spin Cycle | Yes |
| Cold Wash | No |
| Water Protection System | No |
| Dryer Window Size | 0CM |
| Washer Noise Level | 0DB1 |
| Washer Spin Noise Level | 0DB1 |
| Separate Temp Control Options | Steps |
| Spin Speed Options | Variable |
| Loading Type | Front loader |
| Washer Drum Material | Plastic |
| Appliance Frequency (Hz) | 50 |
| Start Delay Option | Continuous |
| Start Delay or Stop Delay Option | Start |
| Left On Duration | 0MJ |
Close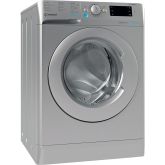 Indesit BWE 91484X S UK N Washing Machine - silver